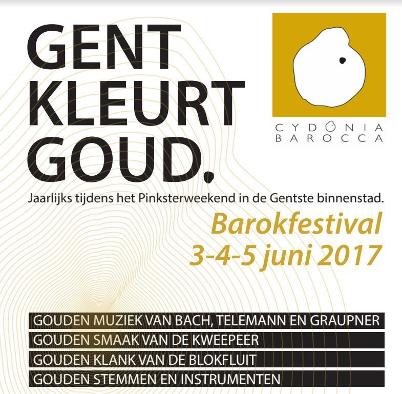 GHENT TURNS GOLD.
GOLDEN MUSIC OF BACH, TELEMANN, GRAUPNER

GOLDEN TASTE OF THE QUINCE

GOLDEN SOUND OF THE RECORDER

GOLDEN VOICES AND INSTRUMENTS
During the Pentecost weekend the city of Ghent presents an annual baroque music festival with music of the three great masters of German Baroque: Bach, Telemann and Graupner.
Florian Heyerick, already a lifetime known for unexpected musical discoveries, selects each year an instrument and brings together specialists from home and abroad to provide the public with this baroque pearls.
In 2017 it is all about the recorder.
Expect next to concerts with cantatas, orchestral works and many chamber also an Open Stage, a Telemarathon, lectures, city tours, a children's program, world and jazz music, and many known and unknown masterpieces performed by a pleiad of outstanding musicians on several attractive sites.
In between the quince makes for an equally refreshing and surprising culinary discovery.
www.cydonia-barocca.org - an initiative of Florian Heyerick